Did you know that by updating your product SEO titles you can increase the traffic you get from your Google Ads campaigns? They're not just for organic SEO rankings. Your shopping ads rely heavily on them too.
There's actually specific formats you can use to improve your Shopping traffic. This includes adding the following to your product SEO titles:
Color
Size
Material
Style
Pattern
Gender
Age Group
Let's say you sell Diamond rings. Here are some shopping ad examples: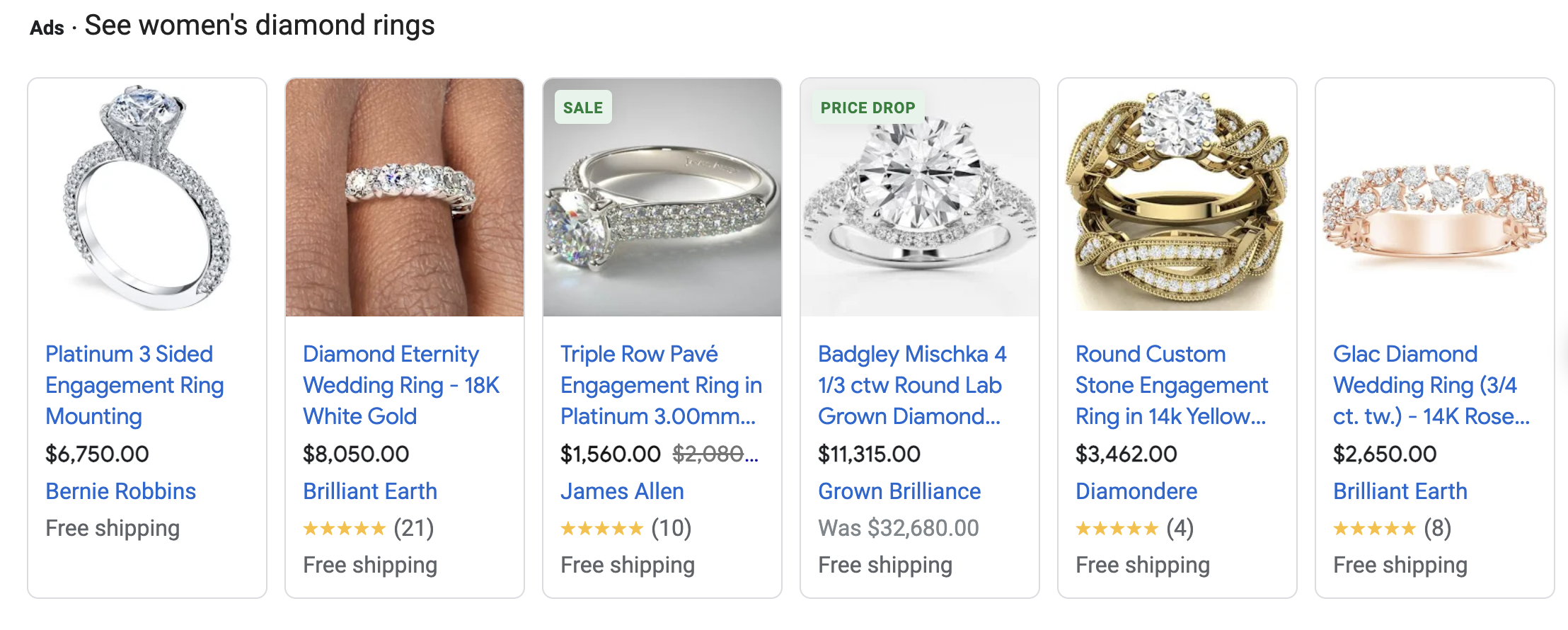 Your SEO title may be something like this:
Diamond Ring - XYZ Jewelry Store
This is an accurate description of the product but leaves a lot of room for optimization.
You could update it to be something like this:
Women's Gold 2 Karat Diamond Ring Size 8
Making changes like what's mentioned above helps you organically with the search engines as well as your shopping campaign. You can drive traffic for many search terms like:
women's rings

gold diamond rings

2 karat diamond ring

women diamond ring

size 8 rings for women

diamond rings for women

women's size 8 rings

gold rings for women
Often times I believe people get hung up on having to know all the keywords that people search for or feel its too overwhelming, when in fact if you at a minimum focus on words that describe the product itself you will already be doing more than most.
Don't Focus On Your Brand
If your brand is not something everyone already knows and searches for, do not put a lot of focus on your brand in your SEO product titles. Some stores prefix the title with their brand name, this actually hurts your shopping campaigns if your brand is not a popular one. Instead, move the brand name to the end of the SEO title tag so that you can put words people actually use at the beginning.
In the example below you can see that most are ensuring their brand is not listed at the beginning except for Zales since they are a well-known jewelry store where people may actually search for Zales.